The Coronavirus pandemic as we know has had and will still have devastating effects on the world economy. As far as we are concerned in this section, for example, we have spoken several times about the deleterious effects on the smartphone sector, but to pass badly, with the exception of smartwatches and fitness trackers, there are also several other products, in particular desktop and tablet computers, as confirmed by the latest study carried out by Canalys, an important market analysis company. Indeed, according to Canalys data 2020 should end with -7% for total shipments of tablets and PCs compared to the same period of 2019, with 367.8 million units shipped instead of 395.6.
"The worst is behind us as the second, third and fourth quarters of 2020 are expected to experience lower year-over-year shipments than the first quarter," analysts said.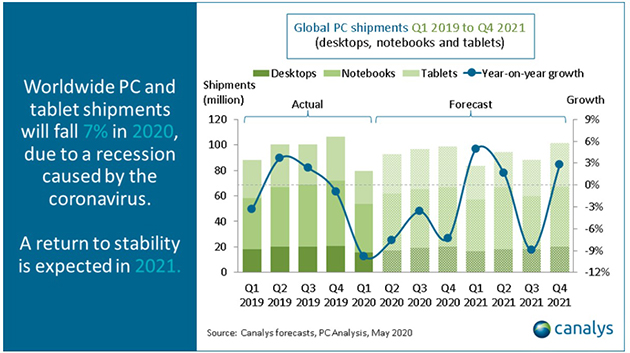 "This is mainly due to the return to normal for the supply chain and the production base in China, which will respond to a rapidly growing demand thanks to segments such as smart working and education. However, the recessive impact of coronavirus on global economies will not diminish and consumers, businesses and governments will prioritize vital expenses before updating computers, "concludes the research.
Notebooks are partially an exception, whose sales have been sustained in recent months and will also be sustained in the near future, precisely due to the increased demand due to investments made by remote workers and schools. However, the slowdown imposed on production rates, due to the prolonged lockdown in China, where most of the producers and manufacturing companies are concentrated, and a slow return to normal, will be felt for a long time: "Canalys expects the global PC will return to grow by 2% in 2022 […] But it's important to keep things in perspective: a modest recovery from a weak 2020 will not allow the PC market to return to 2019 levels for a few more years to come".